The 10 Steps of Efficient Process Documentation

Process documentation is a tool successful businesses use to efficiently support their repeatable actions.
What?
Simply put, it's a clear, concise manual for how to work through every process that the staff employs to accomplish company goals. It breaks down every process into easy-to-follow steps, and is useful for training, reference, and demonstrating your operations to external shareholders.
Learn more: Process Documentation: What, Why and How?
And, while creating records of your workflow may seem like an insurmountable task, it's actually pretty straightforward if you follow a process to get there. (Yes! Everything is a process!)
The Novatone team has broken it down into 10 Steps:
Identification of the Process, its Participants, its Scope
Which process are you focusing on? Give it a name and a description –what purpose does it serve?
Identify the people (their professional roles, not their actual names) who will be responsible for completing this process.
Describe (concisely) the extent of the process, which elements and expectations are included or should be excluded.
Defining Process Data
Determine the inputs and outputs of the process.
What resources do you need to initiate the process, and where do you find them? These can be tangible items or digital tools. Think in basic terms!
What are the goals and products of the completed project?
Track the Specific Workflow
Clearly define the start and end points of the process.
What tasks need to be completed?
In what order?
Who is responsible for each task?
Collecting and Validating Information
This is a critical stage in process documentation. A spreadsheet is key!
Get input from the people with direct experience in working through the particular process you're focused on (from start to finish).
Refer to any existing materials, research, or records.
Remember that a process often touches different departments (see swimlane graphic, below), so it's imperative that you gather your information from everyone who has a hand in its completion.
Create a deadline (and reminders, thereof) for submission of the information you're gathering, so that you can confidently move forward with your documentation.
Keep careful track of who/where the input is coming from in order to organize the data accurately.
Consider the details! Remember that everyone responsible for a portion of the process will have an insight into its functionality.
Validate the data. This may need to be a hands-on activity: shadow the process participants; look for conflicting information (and its sources); confirm with a subject matter expert (SME), as needed.
Organization Step-By-Step
This is pretty straightforward. Using the information you've gathered, add it to your outline in sequential order.
The steps should be explanatory but direct. Remember who is going to be reading it, and make it easy to understand.
Denote any critical or key points
For each workflow task, include:

Description/Purpose or expected outcome
Who is responsible
Tools/resources that will be used
Anticipated Timeline

Review for clarity and completeness
Visualization: Draw a Process Picture
Many people are visual learners. Even for those who are not, creating a graphic flowchart can make any process easier to comprehend.
The visual tool most often used in process documentation is called a swimlane diagram. It is a practical means of:
Charting every task, department, and role in the process
Providing a holistic overview of the entire process
Clearly indicating who is responsible for which step
Indicating collaboration points
Clearly identifying what technology or resources are required, and when
Identifying any gaps, bottlenecks, or overlaps
Delineating dependencies
Identifying outcomes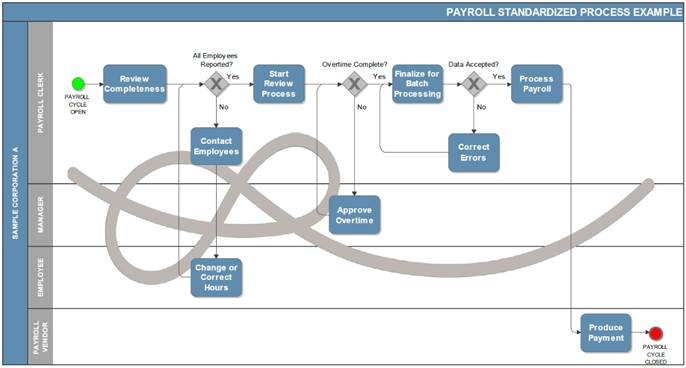 Acknowledging Risks and Exceptions
There are always exceptions to any process. As long as you are careful to denote any potential aberrations, you can mitigate risks and keep the workflow streamlined.
Use the fundamental input from your team. In your earlier discovery process, you will likely have learned of the common interruptions, errors, or process deviations.
Determine the best way to rectify or work around these unique cases
Introduce tag points to identify risks or exceptions along the way (ideally, they will not flag anything, most of the time!)
Coordinate all of this information and share with everyone responsible for for the process execution
Reviewing
As with any outline, you may need more than one draft to ensure accuracy. The key stakeholders (process owner, process manager, SEM) should read through the documentation carefully.
Note down any irregularities, errors, or missed steps
Ensure the swimlane diagram is clear and correct
Make sure the language is appropriate to the target audience
Recommend any amendments or actions
Testing
Practice makes perfect. Do a trial run of the process carefully adhering to your documentation. Let several of your employees run the test, to make sure that your instructions are easy to follow.
Ensure that your format is compatible with your IT systems
Optimizing
Apply the critical feedback from the testing phase. User suggestions can be very enlightening! Be careful, however. Sometimes, people are resistant to change, and may look for problems that aren't really there.
Make improvements or refinements where needed
Re-test!
Tag your documentation to make it easily searchable in your database
Digitally link any sections that may refer or cross-reference other processes or dependencies
Adopting
Once you've got your final draft, you need to secure official approval from the appropriate stakeholders. And then it's time to implement and share, and watch your process efficiency increase!
Make it readily accessible. Add the process documentation to your organization's knowledge management system, and make sure that everyone who needs it knows how to access it.
What Happens Next?
You'll repeat this process for every process in your business. It is a smart idea to have documentation in place for all critical functions and actions.
Create a template, so that your documentation is cohesive and consistent. Apply it to any new process.
As you implement the documented processes, you'll begin to see where small changes or refinements can be made. Make sure to update them in your documentation.
It's easier to keep up with small amendments than it is to revamp the documentation of an entire process that has become too outdated!
Documentation reviews should be part of your company's regular "health checks". Continuous monitoring is essential for your company's efficiency. Review your documentation at least once a year.
Make sure your team is aware of and can access any revisions any new additions
You company policies and standards may shift over time. Ensure that your documentation is updated to reflect those changes.
---
Ready to get started with your own process documentation? Contact the experts at Novatone to see how it can make your organization more efficient and effective.