How Canada Can Support Working Moms in the Covid Era

Novatone is a proudly women-owned business.
Helena Trudel and I are passionate about the work we do, and we're committed to making our company a success. We work very, very hard at our careers.
And we're mothers. And we work so very, very hard at home.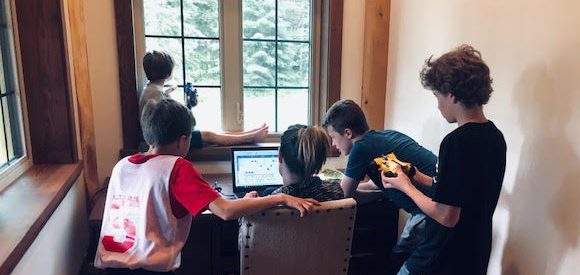 Now, none of that is unusual in this day and age, but in our office, we're often struck by the continuing inequity that working moms face: even in the 21st century, there is an expectation on women to be the default parent. We're the ones who feed the kids, meet the teachers, buy the new shoes, make the dentist appointments, drive the carpools, know all of the friends. And we are also expected to earn a wage and help support the family, financially.
We're experts in multi-tasking, and we get everything done, because we need to. And we can. Working mothers are as strong as steel cables. But we're exhausted, and Covid has worn us down to our last fibres.
I am keenly aware of how great it is to be in Canada. Canadians are so fortunate to be a part of a nation that truly cares about its people. But as citizens, it is our right and our responsibility to call out our leaders when they're not doing enough.
And right now, Canada is not doing enough for the working mothers who are critical to our country's economic and domestic livelihoods.
I feel compelled to make my voice heard, on behalf of all businesswomen across BC and Canada. So, I've written a letter:
An Open Letter to Canada's Policy-Makers
My name is Melanie Mogus. My husband and I are parents to four boys under the age of twelve. We both work full-time; I am the co-owner of an IT business, and my husband works for a sawmill.
And I am angry. These past four months under the pandemic have created an untenable situation for Canadian families like mine.
In 2015, I started a business with another skilled and entrepreneurial friend. We'd identified a gap in the market that we were ideally suited to fill. We developed a solid business plan, established our company, hired a small, cohesive team, paid our taxes, and before long saw a profit. We've done everything right! We've even been able to volunteer our time and professional expertise within our community.
Our business has been steadily growing. This past January, we hired our 5th staff member (our excellent team is all women). We secured our first long-term contract outside of the province, and we were on course to begin to grow nationally and internationally! A true Canadian success story, with a pair of working mothers at the helm.
And then Covid-19 hit.
And Canada's women-owned businesses have really taken the punch. Even worse, we can't seem to get back up, because of the way this situation has been handled by you, our leaders.
My biggest frustration is the inconsistency in the government's messaging. Our children are told to say home. Our elderly parents are told to stay home. We're told we can stay home. But in the fast-paced business world, companies have already returned to a semi-normal operational level. Our clients –manufacturers, non-profits, government agencies– are all back at work! Our business relies on them. If we can't do our job, we can't deliver the value our clients expect, and we lose our customers and our income.
But someone needs to take care of the kids. Someone needs to safely grocery shop for our at-risk parents. Someone needs to meet the everyday, intellectual, and social-stimulation needs of our families. And that is falling to us!
How are we supposed to fulfill those expectations when schools, daycares, and camps are closed? How can I participate in our economic recovery when the government has crippled my ability to work? Since this whole thing started, I've been forced to choose between being a parent and being a business owner. It's hurting everyone: my family, my business, the employees who rely on me. It's hurting me. It's hurting every single working mother and every woman-owned business across this country.
Canada, there is a way that you can actually help us!
This is what we need you to do in the short term:
Forgive the $40,000 loan to women-owned small businesses that have had to scale down due to lack of childcare.
Offer preferred access to the government contracts that we're qualified to satisfy. Business owners with school-aged children are losing clients because of foreshortened workdays due to schools being closed. Will the government step in and select us for procurement contracts? Our small-but-talented team is losing those jobs to enormous firms that have hundreds of employees and personnel coverage to make it through this strenuous period. We can do those jobs. But can't compete with the giants from our kitchen tables!
Extend the 75% wage subsidy to in-home childcare providers, and let working moms get back to work!
In the long term, you can truly address systemic inequality. Start with the tax code! Redetermine what's genuinely a necessary work write-off. If greens fees and dry cleaning are legitimate business expenses, surely access to reliable childcare can be, as well! It's time to prioritize.
If we're going to make it through this unexpected economic downturn, Canada needs all hands on deck –and all business owners revving up and getting back to work. Don't exclude an essential portion of your working population because of antiquated regulations and expectations. Make our home lives sustainable, so we can do our share for the Canadian economy.
I beseech you, Government. Don't turn a blind eye to the disaster that is speeding towards us. Don't sideline half of the country's business talent simply because we have children. We're in a crisis that you haven't handled well so far. But there's time to redirect.
You can do it. We believe in you. That's what moms do.
Show us you believe in us, too.
Sincerely,
Melanie Mogus, Co-founder
Novatone
Prince George, BC